STA History
The History of the Sauratown Trail from Hanging Rock State Park to Pilot Mountain State Park - By Emily Grogan
"In the latter half of 1966, concerned over the possibility of intensive commercial development of Pilot Mountain and consequent irreparable damage to its natural features, interested citizens and organizations in northwest North Carolina began to search for ways and means of protecting and preserving the natural beauty of the area. They soon decided that this might best be accomplished by establishing Pilot Mountain and land surrounding it as a state park. Doing so, they felt, would not only assure preservation and protection, but also would add much needed natural open space to help meet pressing recreation needs.
At the request of a number of interested citizens, the Northwest Economic Development Commission accepted the responsibility of coordinating the effort to establish Pilot Mountain as a state park. On April 17, 1967, Joe C. Matthews, Executive Director of the Northwest Economic Development Commission, appeared before the State Parks Committee of the Board of Conservation and Development to advocate establishment of a state park at Pilot Mountain. On August 29, 1967, the Board of Conservation and Development decided to approve of the gift of 1600 acres of land including Pilot Mountain upon receipt of an acceptable deed in Surry County to the State of North Carolina for State Park purposes.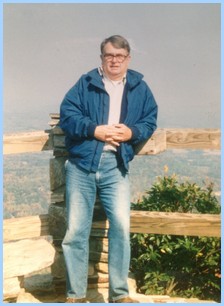 Joe Matthews at Pilot Mountain overlook
Photo submitted by Bill Ferebee
In the meantime, the Pilot Mountain Preservation and Park Committee was incorporated on August 14, 1967. The 60 member committee, incorporated for the purpose of raising funds to be donated to the state for the purchase of land for Pilot Mountain State Park, went to work at once. So successful was the committee's efforts, that it exceeded its goal of raising $350,000. by early January 1968 - less than five months after its incorporation! Nearly 12,000 persons throughout the state contributed money for the purchase of land for Pilot Mountain State Park. This successful effort provided the matching funds needed by the state of North Carolina to obtain Federal grants and the state applied for grants from the Land and Water Conservation Fund and Appalachian Regional Commission. On July 24, 1968 at 3:25 PM, Pilot Mountain became North Carolina's fourteenth state park.
While procedures to secure Federal grants were being carried out, the Pilot Mountain Preservation and Park Committee undertook the daring feat of securing options for two islands in the Yadkin River and surrounding lands on the Surry-Yadkin County line and lands for a connecting access corridor trail. On August 27, 1970, the land on both sides of a two-mile stretch of the Yadkin River and the land in the Corridor became part of Pilot Mountain State Park."
Master Plan Pilot Mountain State Park Richard C. Bell Assoc., Inc. What most people in this day and era do not realize is how much work Joe Matthews actually did to secure lands for, establish and maintain Pilot Mountain State Park. He was the executive director of the Northwest Piedmont Council of Governments from 1979 until 1993. Joe was a committed environmentalist and humanitarian. If it was of historical, educational or recreational interest, he did whatever was needed to make sure it was preserved for future generations. His list of accomplishments is too long for this history. Joe lived in East Bend, North Carolina, just minutes away from the Yadkin Island entrance to the park and took it upon himself to physically maintain the islands and trails on that side of the park and to make sure the Corridor Trail was maintained.
Shortly after the North Carolina Trails Association was formed in 1973, a handful of people decided it was time for a hiking and equestrian trail connecting Hanging Rock State Park on the east with Pilot Mountain to the west. In 1977, Joe Matthews, with the help of a little scrawny intern named Darrell Mc Bane, joined RM Collins (a member of the NC Trails Association) and a handful of local volunteers in the daring task of turning this dream into a reality.
Armed with maps from the County Courthouse, they knocked on door after door contacting approximately 30-35 farmers and landowners for permission to cross their land. Back in those early days, most of the trail crossed rural, undeveloped farm lands. Since there was no fire and police supervision in those areas, some landowners were reluctant. It took several years by RM Collins and his group of volunteers to contact and secure this handshake agreement.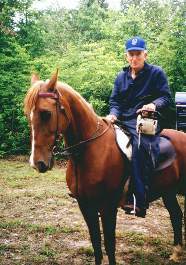 RM Collins riding out to do some chain saw work on the trail
With nothing more than a handshake agreement between "Gentlemen", a small group of volunteers began flagging and constructing a trail between the two state parks on private lands. After years of construction and hard work, the first trail in North Carolina built by citizens across private land, was dedicated and opened to the public at a grand ceremony on October 28, 1979. Nothing like this had ever been accomplished before or since. This was an historic moment in the early days of the trails movement in North Carolina.
"This first trail began on the north side of Hanging Rock State Park, followed the main ridge of the Sauratown Mountain Range to the peak. From the peak, the trail went southwest across the ridge, crossing farm lands and woods to the base of Pilot Mountain where it joined the Pilot Mountain Corridor Trail for another 15 miles to the Yadkin River." (Information courtesy of M. Wayne Horton and his research.)

Wayne Horton and RM Collins
For many years this trail was enjoyed by hundreds of equestrians and hikers from all over the state and out of state. Its reputation spread quickly throughout the state of North Carolina. By the mid 1980's many of the public equestrian trails were diminishing at an alarming rate, while the horse population in North Carolina was growing at an astonishing rate. With the population of cities growing and the green scape disappearing, more people than ever before wanted a place to escape to, whether it is on horseback or foot. The trails were becoming more popular than ever before, and use of the trails increased. This increased usage caused not only erosion but an increased anxiety level on the landowners as some hikers and riders were beginning to be careless on the trails. On several trails the hiker or rider had to open and close farm gates as the trail did indeed cross through some cow pastures. After a gate was not closed, we got a call from an irate landowner that his cows had gotten out and destroyed his newly sowed front yard.
Let me say here that in the six years the trail was open, that was the only disgruntled landowner call we received. With the increase in usage and a weak liability law, it was decided that the trail should be closed. In 1985 the markers came down and the trail was indefinitely closed.
In 1988, with renewed vigor, a few dedicated volunteers formed a non-profit organization called the Sauratown Trails Association, Inc. We started with 9 charter members who pooled their money together to hire an attorney to get a charter for our new group. Our goals were to promote, create and maintain recreational trails for the equestrian and hiking public in Stokes and Surry Counties, North Carolina.
We found a piece of property owned by the State of North Carolina and managed by NC State University's 4-H program in Northern Stokes County called Camp Sertoma located at an old resort called Vade Mecum. This property is approximately 5 miles from Hanging Rock State Park. At the time we discovered the property, 20-30 acres or more were not being used. After negotiating with the state and the 4-H leaders, we signed a memorandum of agreement and set out to build a very unique equestrian campground/motel. We renovated an old tobacco barn and turned it into our headquarters. We restored an old barn and added enough stalls to accommodate over 40 horses overnight. We built a new campground with electricity and water. We also built and developed over 20 miles of trail on this property. In 1991 a new liability law was repealed. During this time we were extremely busy running our new "Horse Motel" with a campground for riders. For six years we provided a place for equestrians to ride and camp with their beloved horses. It was a 365 day operation. This operation ceased in 1993-1994.
Not content with the limitations of the new liability law, we lobbied to have the law repealed again. The law was repealed again in 1993, titled, "the Landowner Protection Bill". Supporters of the bill included the NC Wildlife Federation, the NC Home Builders Association, the NC Wildlife Society, the NC Forestry Association, and the NC Alliance for Conservation. Before this bill, landowners were held liable for civil damages regardless of whether or not he knowingly allowed the conditions that could cause injury. But the new bill removed that provision for landowners who granted leases, easements or agreements for public use of their property for educational or recreational use. With this new bill, the landowner would only be liable if the injured persons could show wanton or willful neglect by the landowner. With the help of Mr. James Booth who signed our first 10-year lease agreement, we began our new trails on Hanging Rock State Park's property. We continued to build a system of trails on State Park property and worked our way east toward Pilot Mountain State Park.
It was then that the Sauratown Trails Association met its biggest challenge. Much of the land had changed hands and since we only had a handshake agreement, we had to re-negotiate the land for a new trail. The Sauratown Trails Association then met with the Stokes County Commissioners, and the two organizations worked out a legally binding contract between the county, the landowners and our organization, for a 10-year lease agreement, for an 8-foot easement for our trail.
In today's environment, this is a tricky situation. It is not the same as it was in the 1970's, when most of the land was owned by local farmers. First and foremost, it helped to be led by someone like Mr. Collins who taught for 39 years in the Stokes County school system.
His wife also taught for more than 30 years. They also taught swimming for more than 20 years to most of the children growing up in Stokes County. Therefore, he was not a stranger to most of the doors he went knocking on. Even at that, it didn't hurt to carry along a loaf of his wife's homemade sourdough bread and or a bottle of wine. Many hours were spent around kitchen tables talking, getting reacquainted, telling stories and in the middle of all this quietly getting these landowners to agree to sign a 10-year lease agreement. Sometimes you might have to go back to the same landowner 5 times before getting him or her to sign. Now multiply this times 60 landowners and you begin to understand the magnitude of such a feat. RM Collins wore out several horses, a car, a truck and volunteers, driving the back roads of Stokes County. I speak from personal experience. It is a grueling, but rewarding experience. Along the way you meet some outstanding people and hear some great stories. But it doesn't end there. In order to keep these landowners happy, it doesn't hurt to touch base with them from time to time. Many of our landowners are elderly. Mr. Collins and other members have cut wood, help cut up and remove fallen trees, and other chores. This not only helps the landowner but helps with your association's public relation's reputation. And it's the neighborly thing to do.
Our association has an annual Landowner's Appreciation day each year where we invite each landowner to a supper prepared by the association. It gives the members a chance to meet the landowners and it gives the landowners a chance to meet the members who are working on their land. Again, without these landowners, we would have no trail. They deserve our respect and appreciation and we give it gladly.
On June 1, 2002 as a part of North Carolina's National Trail's Day Celebration, we had a grand dedication and designation of our trails as part of the new North Carolina Mountains-to-the Sea Park. This park is actually a 900 mile trail from Murphy in the western Great Smokey Mountains of North Carolina to Jockey's Ridge at the Outer Banks of North Carolina. This great celebration came after 28 years of hard dedication and blood, sweat and tears. The celebration was held at our main parking lot and headquarters on Rock House Road. On that day we honored our great leader, RM Collins by dedicating our parking lots and trails to him. The "gods" honored him with the worst hail storm in 30 years.
| | |
| --- | --- |
| Larry Reeves & RM Collins, June 1, 2002 | Larry Reeves & Bill Ferebee, June 1, 2002 |
| Dedication tent at the Rock House Rd trail center, June 1, 2002 | Trail Center/shelter, June 1, 2002 |
Our trail's success story is one that would not have happened without great leadership, wonderful landowners and the hard work of the many hundreds of volunteers over the years. We figured that over the last 17 years, STA has had over 300 members, over 400 community service workers, over 500 assorted outside volunteers, including Boy Scout groups, hiking groups, and assorted equestrian groups. Including state and federal grants, donations, membership dues, chicken pie sales, assorted rides and events, we have raised and spent over $40,000 on our trail system. This is a lot of money for a small non-profit group like ours.
All of this would not have been possible without the help of our great NC Division of State Parks and Recreation and their staff, the Stokes County Commissioners, the wonderful landowners, the many, many volunteers and the hard working members of the Sauratown Trails Association.
Today we are proud to say that we have a one of a kind trail opened to hikers and horseback riders of all abilities. It is open every day of the week, year round except during the late weeks of November and December during deer hunting season and after heavy rain-storms. It is not an easy project. We have a beautiful trail but one that is equally as hard to maintain. It is a never-ending job to try to keep ahead of the damage due to heavy rain storms, fallen trees and weeds that grow faster than we can weed eat or spray. The future of a trail like ours depends on many factors, some of which we have no control. Encroaching development, land sales, storms and membership are our biggest threats. But for now, we are content to ride and hike our beautiful trails and hope the public can enjoy the serenity of our quiet wooded paths, the sweet music of our waterfalls and our scenic mountain vistas.
Many other people, some of whom you know and many you will never meet, had a part in this project. I would especially like to mention Bill Ferebee and his dedication to the trails in NC and the countless hours of help he gave RM and Joe Matthews in developing trails at Pilot, Yadkin Islands, Appalachian, and Sauratown.
Compiled by Emily Grogan, STA member, with the help of research by Wayne Horton and the Pilot Mountain State Park Master Plan July 12, 2005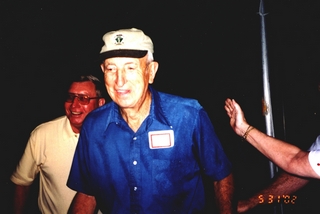 RM Collins, June 1, 2002