Sauratown Trails Association
Announcements:
Caution...
It comes as no surprise that most of the creeks on the Sauratown Trail are quite high and more difficult to cross with all this rain we've had. Please take this into consideration if you are planning a hike, especially with children. The trail is closed to horses until it dries up. Also we are trying our best to keep up with clearing the fallen trees but there are some areas that still need to be chainsawed. Section 11 has the most trees down and Section 10 has two huge trees down ...more
Pilot Mountain Park Superintendent, Matt Windsor, requested we forward the following statement to trail users:

"Construction will start on Pilot Mountain State Park's Visitor Center November 12th. This will close the section of trail that makes up the Grassy Ridge Trail and the start of the Sauratown trail between Pinnacle Hotel Rd and Pilot Knob Park Rd. We plan to relocate and reopen this trail once the building footprint is completed."

The temporary closure will impact both the Sauratown Trail and the Mountains-to-Sea Trail near the construction area.
Our Trails
The Sauratown Trail is a unique 25 mile bridle and hiking trail that connects Hanging Rock and Pilot Mountain State Parks. It is an official section of the North Carolina Mountains-to-Sea Trail, and is maintained by the Sauratown Trails Association. Our trail is unique because we rely on the generosity of private landowners who allow us to build, use and maintain trails on their property. The trails may be used by all horseback riders and hikers regardless of whether or not they are a STA member. The trails are located in Stokes and Surry Counties in north-central North Carolina.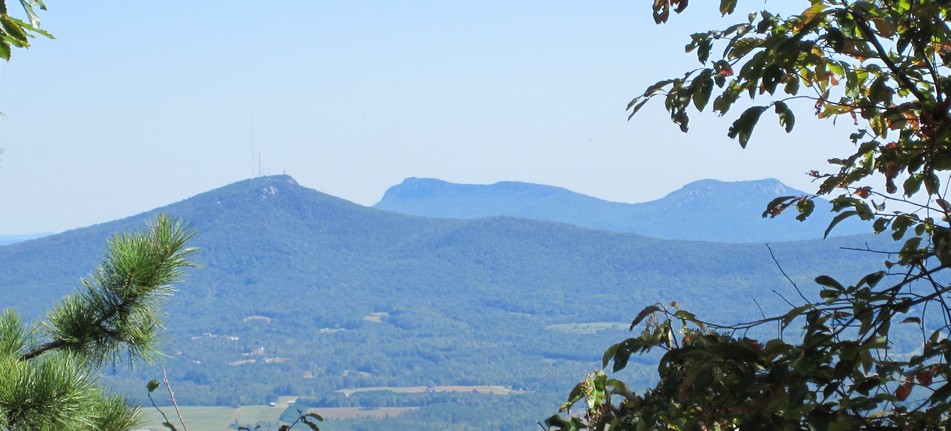 Trails are open when...
The Sauratown Trails are open most of the year to all horseback riders and hikers. Bikes and motorized vehicles are not allowed. For your safety, the trails are closed only during deer hunting season (November to January) and wet, muddy conditions. When the state parks close their trails due to wet weather, Sauratown Trails are also closed. Please check the State Park websites for trail closure notices if there is any question. Pilot Mtn State Park Hanging Rock State Park
Parking Lot Directions
Currently there are 5 parking areas. Four of the parking areas are for horse trailers and cars, and one small area on Rockhouse Rd. is for cars only. They are listed here in order of largest to smallest.
Camping
Camping on the trail is not allowed, however, there are several locations near the trail where you can stable your horse or put up a tent and camp overnight for a small fee. Please check the websites below for availability and fees.
Jomeokee Campgrounds (people camping only)
You can also camp at the state parks listed above if you are hiking only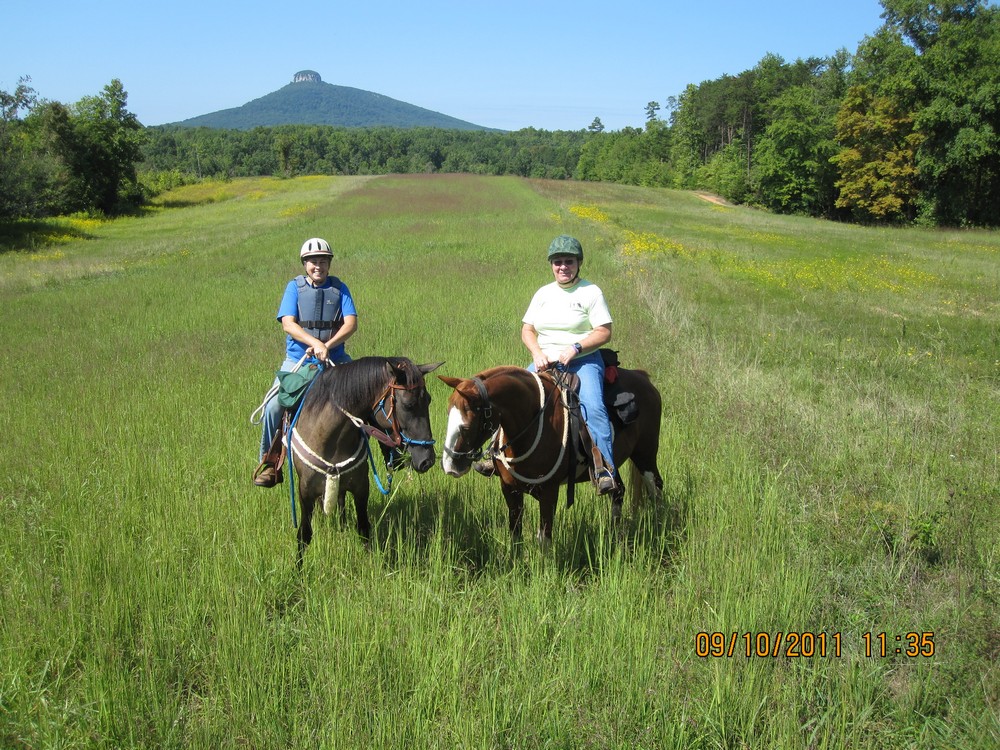 Laura and Tricia riding on trail section 13



Consider Donating to these trails...
If you enjoy the Sauratown Trails and would like to assist us in the cost of maintaining these trails, please consider making a donation through PayPal. Your donation is tax deductible as we are a registered 501c3 non-profit organization