Sauratown Trails Association
Announcements: 04/08/2015 Trail Closure
Sauratown Trail Section 15 (US 52 to Old Winston Road) is temporary closed until further notice. Timbering operations are occurring by the trail, and section 15 is unsafe to travel at this time. Section 15 will remain closed until STA has determined conditions are safe again. We are sorry for any inconvenience this may cause.

Our Trails
The Sauratown Trail is a unique 25 mile bridle and hiking trail that connects Hanging Rock and Pilot Mountain State Parks. It is an official section of the North Carolina Mountains-to-Sea Trail, and is maintained by the Sauratown Trails Association. Our trail is unique because we rely on the generosity of private landowners who allow us to build, use and maintain trails on their property. The trails may be used by all horseback riders and hikers regardless of whether or not they are a STA member. The trails are located in Stokes and Surry Counties in north-central North Carolina.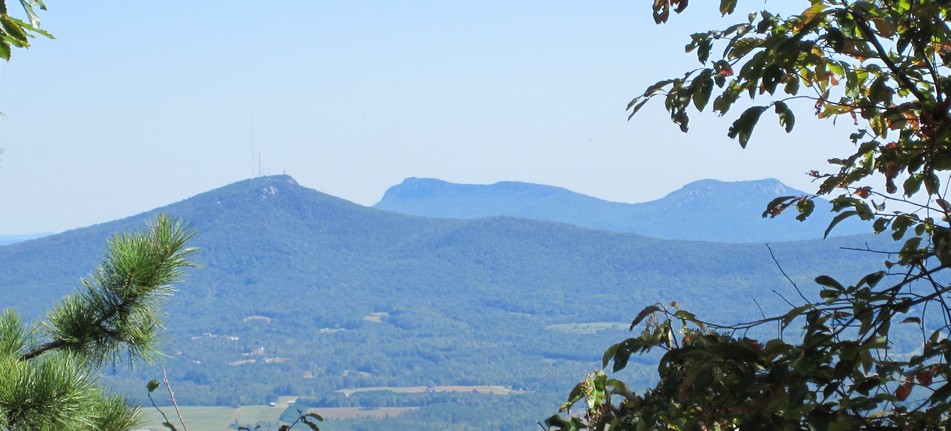 Trails are open when...
The Sauratown Trails are open most of the year to all horseback riders and hikers. Bikes and motorized vehicles are not allowed. For your safety, the trails are closed only during deer hunting season (November to January) and wet, muddy conditions. When Pilot Mtn State Park closes their trails due to wet weather, Sauratown Trails are also closed. Please check the State Park website for trail closure notices if there is any question.
Railroad Track crossing near the Yadkin River closed to horses. 7-12-2014
NOTICE: The railroad tracks along the Yadkin river are closed to crossing by horses. Riders can still access the river from Yadkin County (East Bend). Due to a legal agreement with the railroad, the railroad crossing on the north (Surry County) side of the Yadkin River is closed to crossing and riding by horses. The property is owned by the railroad and not the state park. Please respect the landowner's wishes, failure to do so is considered trespassing. Riders can still ride out and back to the islands from the south (Yadkin County) side of the river, but must stop on the northernmost big island (Fishing Island). More information on the details of the closing
Parking Lot Directions
Currently there are 5 parking areas for horse trailers and cars. They are listed here in order of largest to smallest.
Camping
Camping on the trail is not allowed, however, there are several locations near the trail where you can stable your horse or put up a tent and camp overnight for a small fee. Please check directly with the campground owners for availability and fees.
Jomeokee Campgrounds (people camping only)
You can also camp at the state parks listed above if you are hiking only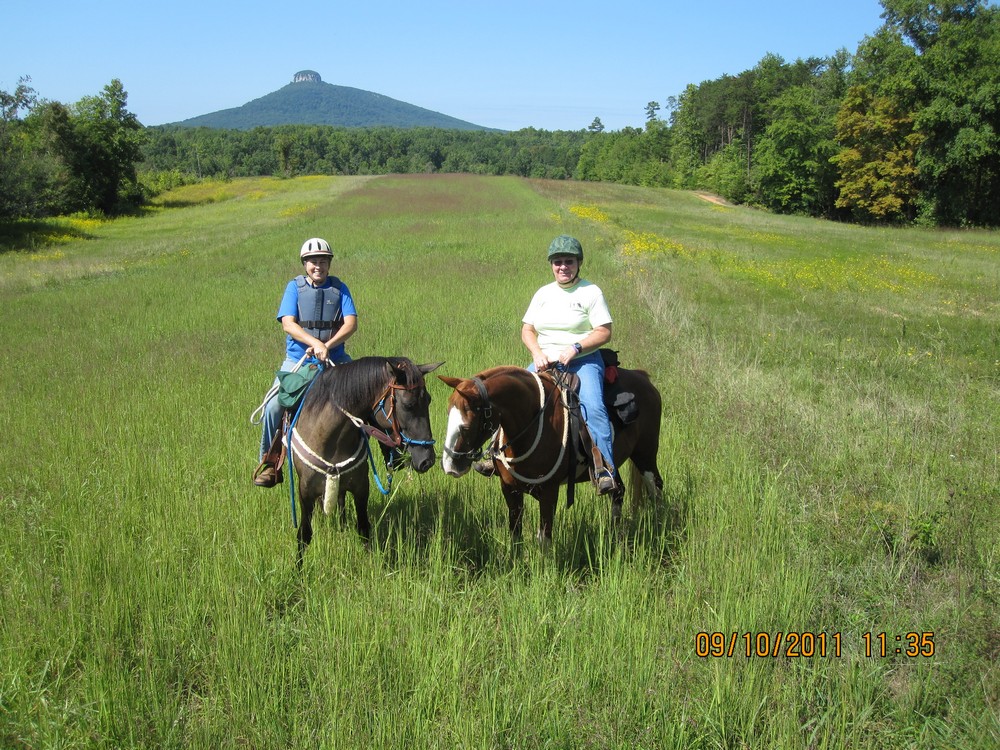 Laura and Tricia riding on trail section 13